Award-Winning Co-op Products
Actions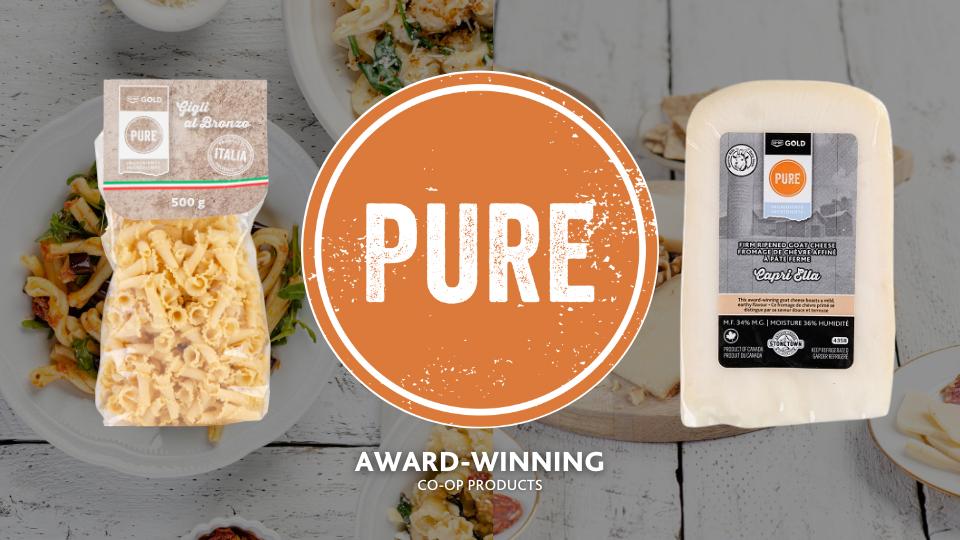 Award-Winning Co-op Products
October 19, 2021
Each year, the Retail Council of Canada (RCC) chooses the best in new grocery products out of selections from all over Canada.
The winning products are chosen by a jury of industry experts on the basis of innovation and originality, product characteristics, presentation and packaging and overall consumer value.
Below are the most recent Co-op Gold and Co-op Gold Pure Product winners!


SWEET DREAMS ARE MADE OF CHEESE
When it comes to rich, cheesy goodness, CO-OP GOLD PURE® cheeses are the stuff of dreams.
If — like most people — you find cheese occupies a significant amount of your waking thoughts, then you're in luck. Let us take you on the delectable journey of our world-class, handcrafted cheeses, so that the next time you use one of our CO-OP GOLD PURE® Cheeses for a gooey grilled cheese, you know just where it came from.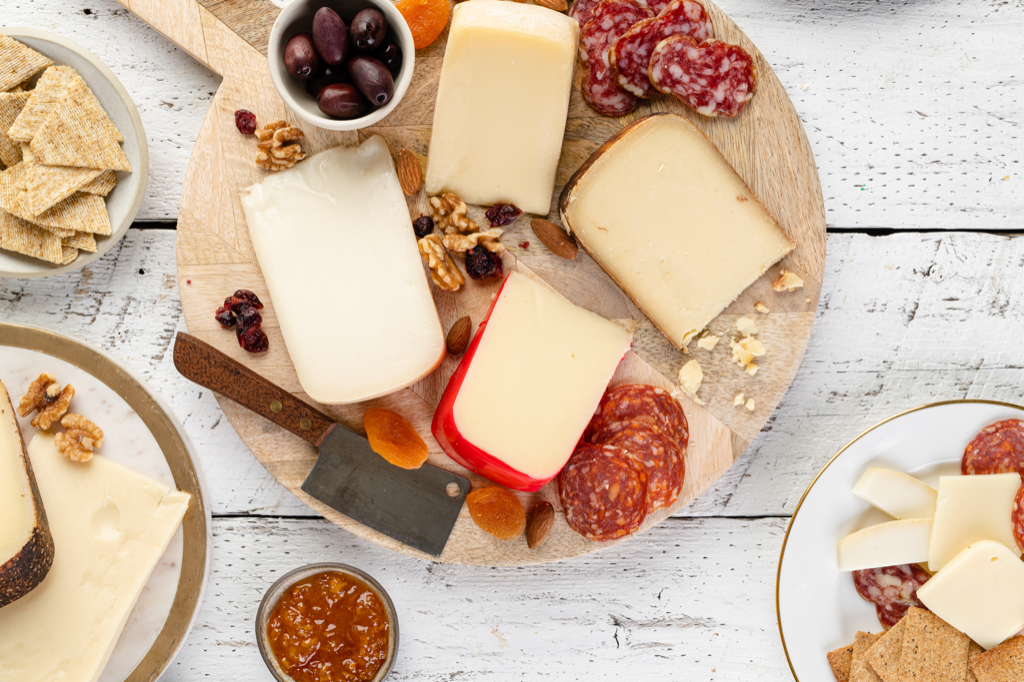 A Farm-to-Fork Story
Co-op Gold Pure Cheeses come straight from Stonetown Artisan Cheese, a family-run farm and cheese plant in St. Mary's, Ont. The cheese is made using whole milk from the farm's happy Holstein cows.
These cheeses use only fresh, unpasteurized milk with no additives. Ramon Eberle, a master cheese maker from Switzerland, handcrafts these alpine-style cheeses. He uses old-style techniques to pair tried and tested formulas with the freshest Canadian ingredients. The result is great-quality, pure cheese heaven.
For centuries, the mountain dairies of the Swiss Alps have used cheese-making techniques that now craft Co-op Gold Pure Cheeses, and you can practically hear the yodeling with every delicious bite!
Our Cheesiest Tips
The traditional methods used at Stonetown Artisan Cheese are no more perfectly captured than in the holey, nutty, classic Farmstead Emmental. This original Swiss-style handcrafted cheese has a naturally sweet and savoury flavour. The creaminess pairs scrumptiously with smoky charcuterie and a light-bodied red wine — yum!
If you're looking for a cheese to revolutionize your cooking, try the firm and salty Gruyère-style cheese, Grand Trunk — perfect for an indulgent, silky fondue, velvety mac and cheese or gooey grilled cheese. It also makes a delightful substitute for the Gruyère in this tasty goat cheese dip.
If you want a cheese to spice up a charcuterie board for your next event, add Wildwood. This semi-soft, naturally tangy Appenzeller-style cheese has a fresh and zesty herbal flavour.
With so many artisanal, handcrafted cheeses to choose from, you can find a Co-op Gold Pure cheese for whatever your heart desires — whether it's paired with a smoky salami on a charcuterie board, whipped into a silky fondue, tossed into a vibrant salad with dried fruit and nuts, or just nibbled on with a glass of full-bodied red wine. It's that ch-easy!
Look for Co-op Gold Pure Cheeses at your local CO-OP® Food Store. But be warned: every artisanal cheese in the collection is extremely addictive!


ENDLESS PASTABILITIES
There is no food more comforting than pasta. Whether snowed in, locked in or having a night in ‒ pasta is a menu staple!
CO-OP GOLD PURE® Pasta is made in Foggia, Italy, just how nonna makes it, ensuring perfect pasta possibilities in every bowl.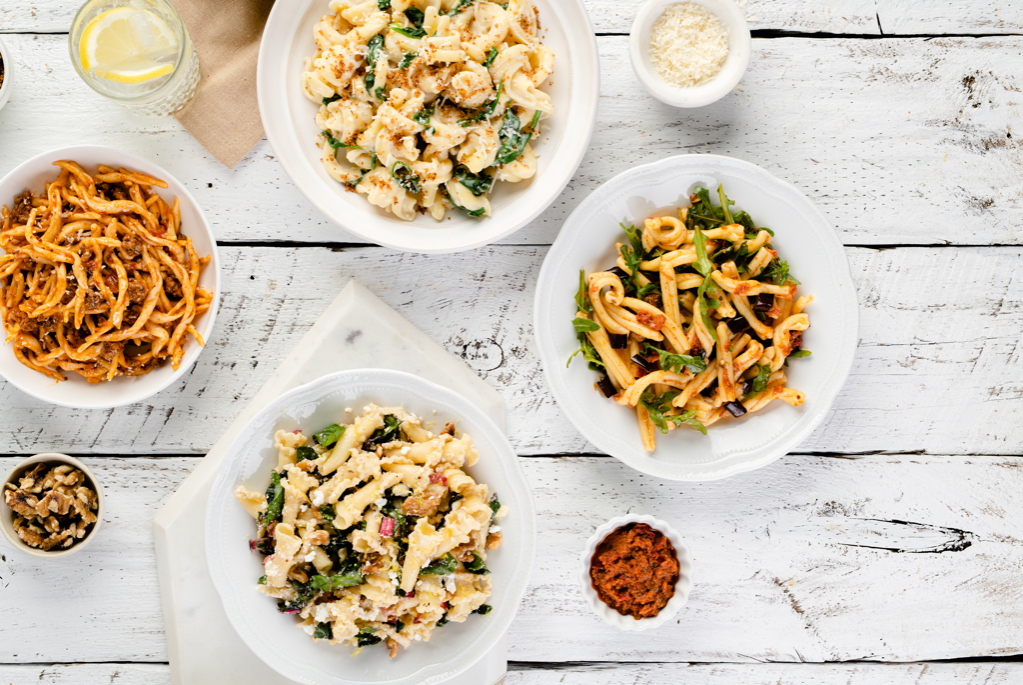 A Taste of Italy
Welcome to Puglia, the southern region forming the heel of Italy's "boot." Puglia boasts beautiful landscapes and gastronomic delights. Due to its superior capabilities for growing durum wheat, Puglia is known as the breadbasket of Italy.
Each shape in our Co-op Gold Pure Pasta lineup combines traditional methods and avant-garde technology to create a memorable taste of Italy, without the air mileage. The Gigli, Casarecce, and Trottole pasta shapes are extruded through rough bronze die, while the Strozzapreti pasta shape is handcrafted.
Pasta-tively Delicious!
This pasta is made with the finest grain. Each unique shape is traditional of the region and perfect in simple or elaborate sauces, allowing you to try a variety of creative culinary combinations.
When you choose Co-op Gold Pure Pasta, you're not only only choosing great quality and great taste, but also a traditional and authentic taste of Italy. Read on to learn more about the different pasta varieties.
Gigli
Gigli pasta has a ruffled edge, resembling a bell-like flower. This curly pasta holds up well when paired with a thicker sauce or baked into a casserole. Any recipes that call for Tuscan pasta shapes like pappardelle would work with gigli just as well.
Give this pasta a try next time you whip up mac and cheese, or pair it with a CO-OP GOLD PURE® Pasta Sauce such as Roasted Garlic Sauce or Marinara Sauce.
Casarecce
Casarecce are short twists of pasta rolled in on themselves making them perfect vessels for capturing thinner sauces or gathering pools of melted cheese. With its Southern Italian origins, this pasta pairs well with ingredients like eggplant, tomato and basil.
Swap the spaghetti in this pomodoro recipe with casarecce, and you'll fall in love with these delicate shapes, designed to capture all the tastes of Italy in each bite. If you're pressed for time, try it with Co-op Gold Pure Tomato Basil Sauce for a quick, delicious dinner.
Trottole
Trottole is Italian for "spinning tops." Their tight spiralled design makes for maximum flavour capturing capabilities. Trottole pasta, as with all pasta shapes, is as versatile as it is delicious. It's a shape that catches and holds sauce very well, making it the perfect sauce boat for a bolognese. You can also substitute the penne in this recipe with trottole for a plant-based sauce option.
Strozzapreti
Strozzapreti is the slightly stretched out sister of casarecce and is hand rolled using authentic techniques. Just like their casarecce cousin, these hand-rolled tube shapes are great in a creamy or meaty sauce, meaning your options are pretty much endless.
Try strozzapreti with any jarred pasta sauce or with a mighty and meaty bolognese.
Pasta preparation tip: When it's time to drain your pasta, set aside some of the cooking water. Add a splash of the pasta water back into the pan at the end of cooking to add a sumptuous silkiness to your pasta dishes while allowing the pasta and sauce to bind. This works for all pasta varieties.
Pick up a package (or two or four) of Co-op Gold Pure Pasta on your next shopping trip and bring home a true taste of Italy.
UPPER CRUST INNOVATION

The CO-OP® GOLD Croissant Loaf is a revelation in the world of comfort food. This flaky croissant comes in a sliceable loaf — it's literally the best thing since sliced bread.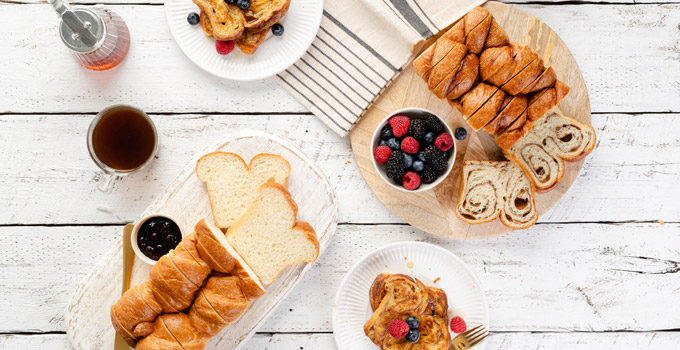 Available in two varieties, cinnamon brown sugar and plain croissant, these loaves are light, fluffy and perfectly flaky. Add this item to your breadbox to spice up your breakfast, lunch or dinner.
Flaky Baked Goodness
This ingenious snack is produced in Delta, B.C., by Creekside Custom Foods. One part classic French croissant and two parts sliceable bread loaf, this delicious combination was created with comfort food in mind.
The loaves are hand-rolled and placed in Creekside's Italian-made proofer to ensure a perfect rise every time. Once baked, the buttery croissant flavour is baked deep within the flaky layers of the loaf, ensuring that every bite feels like a fresh Parisian morning.
Be warned, once you try a slice, you may never want to go back to traditional bread again! We suggest toasting your loaf to make the most of the croissant flavour.
Getting Creative With Croissants
With two delicious varieties, these croissant loaves provide truly endless recipe possibilities! Try the classic croissant loaf as an enviable grilled cheese, or substitute the cinnamon brown sugar croissant loaf for your kids' PB&J.
Enjoy a lightly toasted slice of croissant loaf with CO-OP GOLD PURE® Fruit Spread and brie cheese, topped with a sprinkle of walnuts and a drizzle of honey.
Both varieties make amazing additions to your morning French toast. Add some sweet Canadian maple syrup, local berries and whipped cream, and you're ready for a delicious brunch.
You can use the classic croissant loaf in a wide range of sandwich combinations, from chicken melts to roast beef masterpieces. Add some cheese like our delicious CO-OP GOLD PURE® Farmstead Fontina, and indulge in the ooey-gooey, flaky goodness that ensues.
Making a homemade Caesar salad? Cut the classic croissant loaf into cubes, and bake in the oven for delicious, light and crunchy croutons. There's nothing this croissant loaf can't do!
Look for Co-op Gold Croissant Loaf at your local CO-OP® Food Store. And once you've got your loaf, start planning your next brunch!
A GREENER WAY TO CLEAN

Cleaning your house may be a chore, but it's never been more worthwhile.
Co-op Gold Pure concentrated cleaning pods are an effective, convenient, economical and environmentally friendly way of cleaning your home. They're available for your kitchen, bathroom or glass surfaces.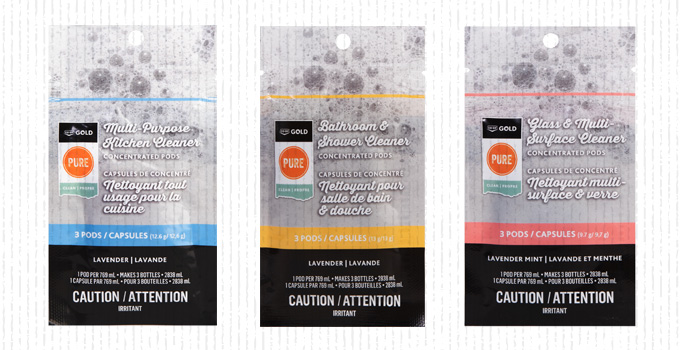 When mixed with water, the pods create non-toxic cleaning sprays that never leave streaks or residue. When your spray bottle is empty, simply refill it with water, drop in another pod and gently shake the bottle to prepare the solution.
The cleaning pods are packaged using 100 per cent recyclable content and the pouches are manufactured using an industry-leading film which can be recycled where facilities exist. What's more, our bottles are designed to be reused multiple times, or you can reuse a spray bottle you already have.
In these ways, we're taking big steps to reduce the amount of plastic that goes to landfills. The innovative system of eco-friendly Co-op Gold Pure cleaning products saves money while respecting the planet.
Just concentrate
Co-op Gold Pure pods contain a super concentrated cleaning solution that removes dirt and is safe on any surface. The pods are simple to use and easy to store. There is no measuring, pouring or spilling like with conventional refill bottles.
The concentrated solution means the pods are very economical, since the product does not contain the water weight of regular cleaners. This also leads to a significant carbon emission reduction while transporting the pods versus traditional ready-to-use cleaners. In fact, one pallet of pods shipped to our warehouse is equivalent to nearly 35 pallets of a leading national brand glass cleaner.
Initial estimates show that carbon emission of concentrated cleaning products is more than 95 per cent less than traditional cleaning products through both transportation reduction and the reduced number of plastic bottles which need to be manufactured.
Better for the planet and your wallet
By giving you the ingredients you need—the concentrated cleaning solution in Co-op Gold Pure pods—and asking you to just add water, we're keeping the planet in mind.
Spray bottles are typically recyclable; however, only nine per cent of plastic is recycled in Canada. This means many bottles end up in landfills anyway. Each package of pods can save three spray bottles and dispensers from being created and disposed, since the bottles are meant to be reused.
Aside from the environmental benefit, there is a significant cost saving in purchasing a reusable spray bottle and concentrated cleaning products. The leading national brands' ready-to-use equivalents are significantly more expensive than Co-op Gold Pure concentrated cleaning products.
Make a clean break from regular products and concentrate your efforts on saying goodbye to a pile of plastic.
Discover more: