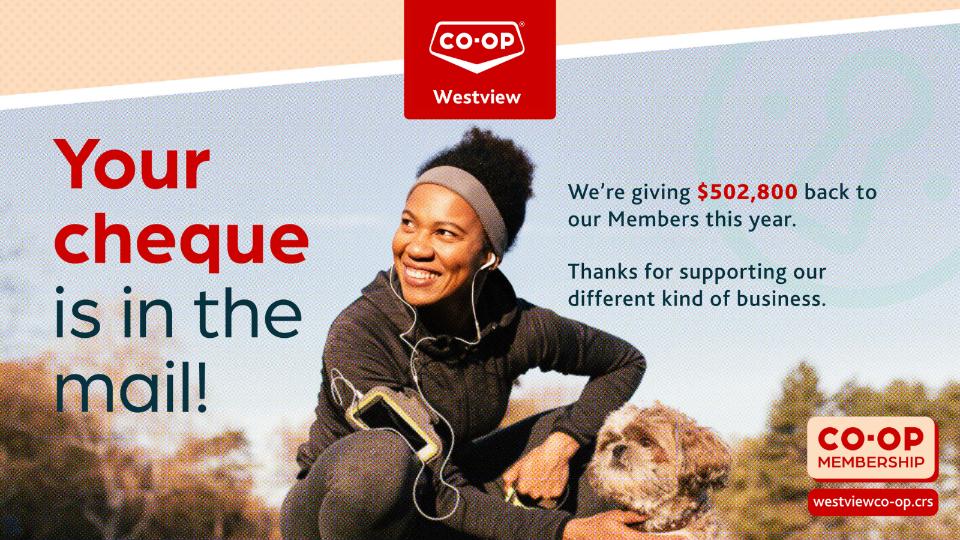 2021 Profit Sharing
April 19, 2022
2021 was a year with significant progress for Westview Co-op. Westview Co-op's total sales for the year amounted to just over $126 Million and compared to $109 Million in the previous year. Despite the pandemic continuing to pose challenges, our bottom line improved over the 2020 fiscal year.
Federated Co-operatives Limited (FCL), our wholesaler, saw strong sales in 2021 despite a small decline in litres sold to local Co-op's. This allowed FCL's Board to authorize a patronage refund to local Co-op's, who in turn, pass on profits to their Members at the local level.
Members receive dividends based on their yearly purchases and your local Co-op's performance and profits. Through these increased earnings and profit-sharing this year, the Westview Co-op Board was pleased to authorize a patronage allocation and cash back repayment to our Members.
We also want to thank all our loyal Members for continuing to support your local Co-op through these challenging times so that we can continue to strengthen the Communities in which we live, work and play in.
If you have further questions regarding this year's allocation or want to learn more about Westview Co-op's financials, we encourage our Members to reach out to us at our Olds Administration Office (403) 556-3335.
Frequently Asked Questions
What is cash back and equity?
Local Co-ops often share any profits realized in a year with their Members. The Board of Directors approves an amount, which is returned to Members as a percentage of their yearly purchases. Members may receive some of this in cash, and the rest will be deposited into an equity account that grows over time.
When do I receive my equity?
If equity is approved by your local Co-op's Board of Directors, allocation will be distributed once all accounting of the Co-op's finances have been completed at the end of the fiscal year.
Is profit sharing considered a loyalty program?
No. When you purchase a Membership, you become a part owner in your Co-operative Association and own one share in your business.
Normally I receive a cheque around this time every year. Did my cheque get lost in the mail or misplaced?
Cheques will be mailed out during May of 2022.

Discover more: