Equity Allocation Announcement
Actions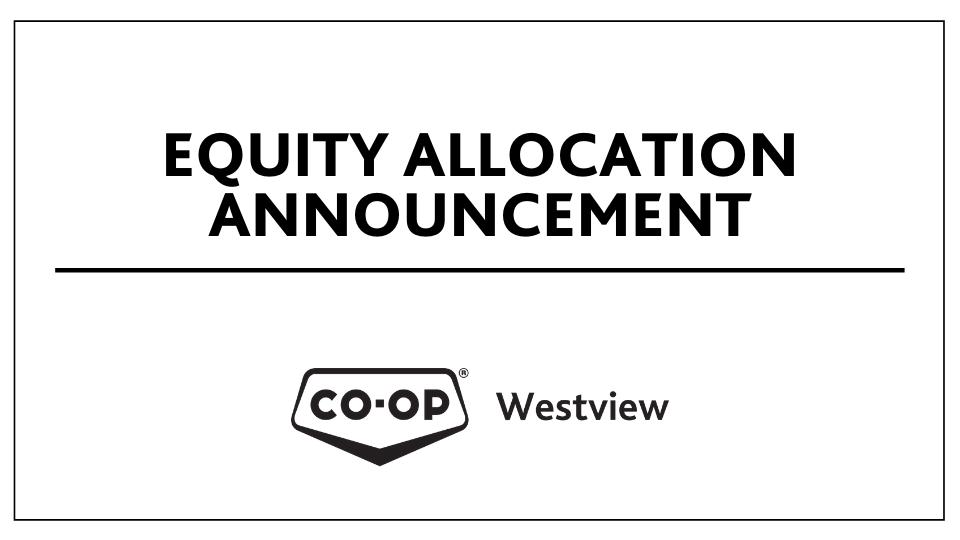 Equity Allocation Announcement
July 6, 2021
2020 Profit Sharing
Due to the collapse in world energy prices and the drastic drop in fuel consumption at the height of the pandemic, our bottom line was down significantly in the 2020 fiscal year. Despite our Food and Home Centres helping offset the losses we experienced on our Fuel and Ag side, our Co-op had a financially difficult year.
Federated Co-operatives Limited (FCL), our wholesaler, also faced significant challenges in 2020, including the Co-op Refinery, impacting their ability to share and pass on profits to local co-operatives at the regional level.
Though these reduced earnings impact profit-sharing this year, we are extremely grateful to continue to operate and provide sustainable employment for our Team Member's while many businesses struggled to survive.
Members receive dividends based on their yearly purchases and your local Co-op's performance and profits. Westview Co-op experienced a net loss and as a result, your locally elected Board of Directors was unable to approve an allocation or cash back for 2020.
While we are not able to allocate equity or pay dividends to our Members, we want to thank all our loyal Members for continuing to support your local Co-op.
If you have further questions regarding this year's allocation or to learn more about Westview Co-op's financials, we encourage our Members to join us at our Annual General Meeting on July 27th.
Frequently Asked Questions
What is cash back and equity?
Local Co-ops often share any profits realized in a year with their Members. The Board of Directors approves an amount, which is returned to Members as a percentage of their yearly purchases. Members may receive some of this in cash, and the rest will be deposited into an equity account that grows over time.
When do I receive my equity?
If equity is approved by your local Co-op's Board of Directors, allocation will be distributed once all accounting of the Co-op's finances have been completed at the end of the fiscal year.
Is profit sharing considered a loyalty program?
No. When you purchase a Membership, you become a part owner in your Co-operative Association and own one share in your business.
Normally I receive a cheque around this time every year. Did my cheque get lost in the mail or misplaced?
After careful consideration, given the current and future unknown economic climate, we will not be making an allocation or general cash repayment this year.
Who determines the allocation?
Your locally-elected Board of Directors determines the allocation based on Westview Co-op's local performance and profits annually.

Will I receive a cheque next year or in the future?
Each year is evaluated separately based on annual profits, future projects, and our strategic growth plans. As a Co-operative Association in a growth phase, considerable capital investments are required to ensure sustainability and future growth.

Am I able to draw on my equity account?
Members that are 65 or older, Members that have moved away from our trading area, and estates are able to draw on their equity accounts.

Why are other Co-ops allocating equity or making general cash repayments and not Westview Co-op?
Each Co-op is a separate association and very much tied to the Communities in which they serve. Depending on their financial performance, commodity mix (e.g., Fuel, Food, Agro), Guest base, and what their Board of Directors determines is available for allocation; they might have made an allocation of equity or paid a general cash repayment.

Who can I contact if I have more questions?
You are always welcome to contact our Administration Office with further questions about our profit-sharing allocation either by email at info@westviewcoop.ca or by phone at 403-556-3335 option 2, option 1.