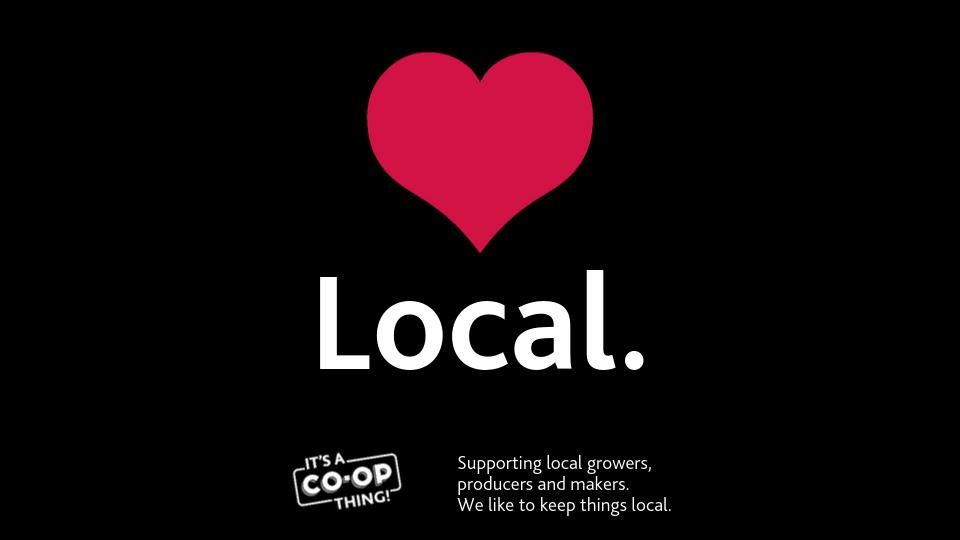 Local Producers
May 6, 2020
Westview Co-op carries a wide selection of Local Alberta products, here are just a few of the companies we carry.
Fratello Coffee Roasters

Fratello Coffee Roasters, works directly with farmers to ethically source coffee from some of the worlds best growing regions. Working directly with the farmers allows them to make sure the farmers are treating their employees fairly with food, shelter, among other things. Learn more about the high-quality products from Fratello Coffee Roasters.
nudemarket
Meet Margaret Taylor, the Founder of nudemarket, a Calgary based business. Thinking about future generations, Margaret invested in a nut grinder and began making fresh peanut butter. Looking to reduce plastic packaging, Margaret invests in products that will last a long time and are reusable. Learn more about Margaret and the Mission of nudemarket here!
Drizzle
At Drizzle, Aja Horsley knows that happier, healthier bees will producer a better quality of honey. That is why at Drizzle, they work with Canadian bee farmers who are based in areas surrounded by diverse floral sources and nutrients. Learn more about how Drizzle is bee-friendly and supporting local farmers to bring you, raw honey.
Borderland Food Company

Whitney, the founder of Borderland Food Company, grew up in small-town Alberta. Now, this Alberta based company creates delicious bone broths that not only taste great but are also extremely healthy for you! Whitney speaks about the health benefits on her website as providing numerous benefits to your gut, as well as strengthening skin, hair, and nails. Whitney creates bone broths that enhance soups and even smoothies! Check out Borderland Food Company here.
Phil & Sebastian Coffee
From Engineering class to the Calgary Farmers' Market and custom-built coffee roasters, Phil and Sebastian were tired of drinking inferior coffee. Thinking like engineers, the pair worked on analyzing and finding the best beans and machine to roast them in. They looked for a pattern until eventually, they had come up with Phil & Sebastian Coffee. See the full story of Phil & Sebastian Coffee based in Calgary, here.
True Bliss Cheesecake
True Bliss Cheesecake is a family-owned and operated business based out of Innisfail, Alberta. Here they handmake each cheesecake using only the highest ingredients. True Bliss Cheesecakes are rich and creamy! Learn more here.
Crystal Springs Cheese
Making their dream of owning a dairy farm a reality, Evert and Jannie Beyer purchased Crystal Springs Cheese in 2005. Based out of Coalhurst, Alberta, this is truly a family-run operation. If fresh is what you are looking for, Crystal Springs Cheese offers fresh! Their cheese curds are made fresh every Thursday using milk from the same morning and are on the shelves in the grocery store by the next morning! See their full story here!
Worthy Jam
An artisan canner based in Strathmore, Alberta. Ashlee is the creative mind behind creating unique flavors like Earl Grey Lavender Peach Jam, Black Cherry Chai Jam, or Chocolate Blueberry Jam. Always coming up with new flavors, she has something for everyone! Check out her story here.
Wild Tea Kombucha

Emily Baadsvik started Wild Tea Kombucha in 2015 after representing the National Team at the Sochi Winter Olympics in 2014. A few months into her business, she realized that she needed to add to her team. Now Brigette Freel and Emily work together in Calgary, Alberta, brewing delicious Kombucha! Authentically bold flavors that are brewed by hand with love. Find out more here.
True Büch Kombucha

True Büch Kombucha, based out of Calgary, Alberta, opened its doors in 2014. The goal for founders Conrad and Louisa Ferral was simple, brew great-tasting kombucha and give back to their local community.
True Büch Kombucha supports local businesses while creating delicious kombucha. To learn more about True Büch Kombucha, click here.
Sweetsmith Candy Co.

Dannah Davies creates a delicious handcrafted candy in Strathmore, Alberta. She grew up making and selling her family candy at local farmer markets and festivals, committing the family recipe to memory. In 2012, Dannah moved home to Alberta and founded Sweetsmith Candy Co. Soon realizing the need for allergen-friendly treats, she began to experiment. All of her products are created on 100% gluten free, egg free, seed free, and tree nut free equipment. Dannah continues to stay creative and expand on the original family recipe. To learn more about Dannah and Sweetsmith Candy Co. check out her story here.
The Sunny Boy

The Sunny Boy story began on Alberta's golden prairies in 1926, through a partnership formed with farmers that surround Camrose, Alberta. Sunny Boy brings a wholesome breakfast to families in the West and has been a staple in the prairie kitchen for over 80 years. Sunny Boy Foods helps to build a strong community through buying from local farmers and milling flour in Camrose. This partnership has allowed Sunny Boy to reduce the distance that your food has to travel, resulting in a milled product so fresh and light it will taste like it's straight from the field. Click here for more details.
Nabati Foods

Nabati Foods is an Edmonton, AB, based family-owned business who loves desserts! After a difficult search to find guilt-free healthful treats that tasted great, they decided to make their own. A plant-based company dedicated to creating whole natural guilt-free, cruelty-free desserts out of high-quality natural ingredients that everyone can enjoy! They have over 15 flavors of cheesecakes (without the cheese), Nanaimo Bars, energy bites and bars, brownies and more!
All their unbaked goods are:
· Gluten-free
· Vegan
· Dairy-free
· Egg-free
· Refined Sugar-free
· All natural. Made with raw, unprocessed and organic ingredients as much as possible.
Happy Belly Kombucha
Chas & Victoria began brewing kombucha for themselves and their families in Calgary, AB. They experimented with local and fresh flavors to create wholesomely delicious beverages and elixirs. With the requests of friends continuing to come in, Happy Belly Kombucha in Calgary, Ab, was born. Each batch of their kombucha is intentionally hand-crafted and made of the finest and freshest quality ingredients. A traditional fermented drink that contains a variety of vitamins, minerals, probiotic bacteria, and enzymes prized for its health-promoting properties. Click here for more details.
Get Sauced
A proudly Canadian company based in Edmonton, AB, Get Sauced & Spiced INC is a family-owned and operated business. With 31 years in business, they offer premium sauces to complement and enhance any dish that you are making. From BBQ Sauce, Hot Sauce, Seasonings and Dip Mix Get Sauced & Spiced offers over 31 products that are gluten and nut-free. Click here to learn more.
Edgar Farms

Edgar Farms of Innisfail, AB is owned and operated by Elna & Doug Edgar. The Edgar's both came from farming families and attended the Agriculture college in Olds, AB. Their farm focuses on non-traditional crops like asparagus. Edgar Farms is currently the largest asparagus operation in Alberta, where they produce tender, sweet and flavorful asparagus. On their sixth-generation family farm, the Edgars also produce peas, beans, traditional crops, and beef cattle. Click here for more information on Edgar Farms.
DaVinci Gelato
Learning the trade of gelato making over 30 years ago from an elder Italian gelatiere, this family-run business formed DaVinci Gelato in June of 2015. Based out of St. Albert, Alberta, Felix, and his parents have embraced the art of creating endless possibilities of flavors and a variety of gelatos. Every batch is handcrafted from scratch and includes dairy, non-dairy and plant-based flavors. Click here to learn more about Felix and DaVinci Gelato.


Visit Westview Co-op to find more great local products!
Discover more: