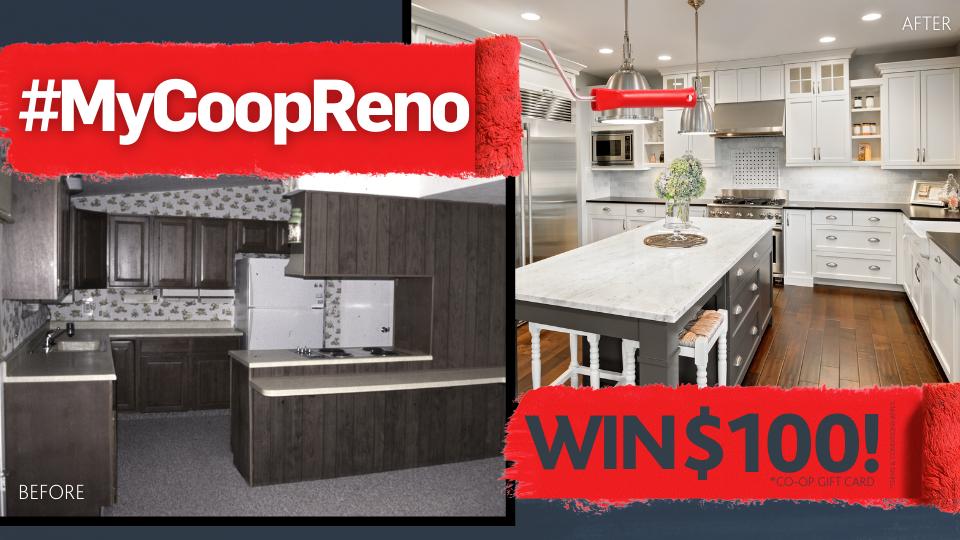 #MYCOOPRENO
January 8, 2021
Planning a renovation? Westview Co-op wants to see the transformation!
Share your before and after photos with us on social #MyCoopReno where our Guests will be voting for the biggest transformation, and one lucky winner will take home a $100 Co-op Gift Card!
Have questions along the way? Reach out to our experienced Team today! #MyCoopReno, terms and conditions apply.
HOW TO ENTER:
Post your before and after photos in the comments on this Facebook post with the hashtag #MyCoopReno
You can also direct message us with your photos if your Facebook account is private or if you do not have social media you can e-mail photos to kelsey.simpson@westviewcoop.ca
We will accept entries until April 8th, 2021.
We will pick the Top 3 Renos with the biggest transformation and let our Guests vote on Social Media.
Voting will be open for two weeks and the Reno with the most votes by April 22nd will receive a $100 Co-op Gift Card!
*Before and after pictures must be of the same room in the same home.
*Photos must be of a renovation that took place in the year 2020 or 2021.
*Official Terms and Conditions attached below.
Discover more: