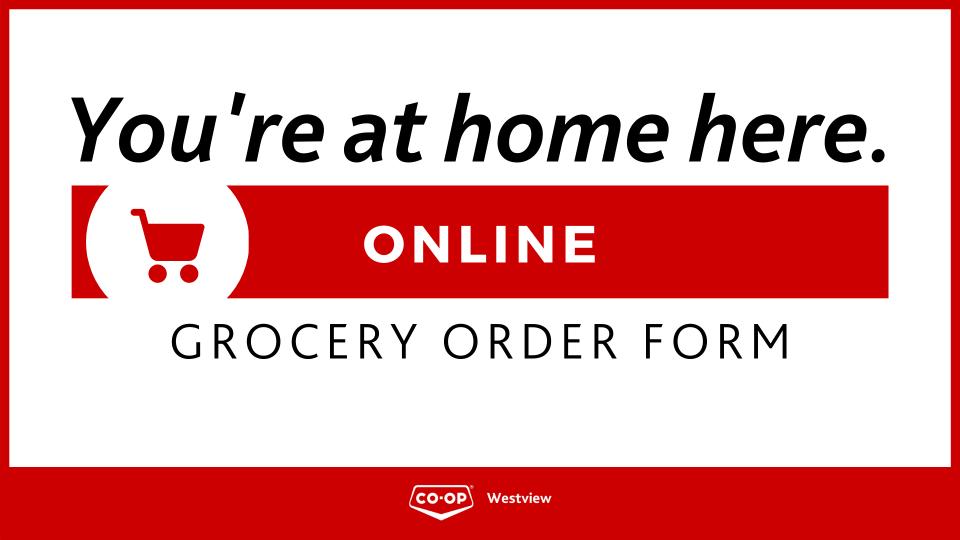 Online Grocery Order Form
April 19, 2020
While you will always be at home here, the safest place to be right now is to be in your home. That's why Westview Co-op has created You're at home here - online! Be our Guest and bring Westview Co-op home with you today!
Please note the following before placing your order:
Delivery is available Monday — Friday.
Pickup is available seven days a week.
For next day pickup or delivery, please place your order by 12 PM the day prior. A Team Member will confirm with you.
In the Notes Section, please enter your preferred pickup or delivery date.
PAYMENT
Once you have placed your order, please check your e-mail for a confirmation.

If you have not received an email, please check in your junk mail folder.

To keep your payment secure, you will receive an e-mail asking you to complete your purchase. Click the link and enter your payment details.
Once your order is ready for pickup or delivery, you will receive an e-mail confirmation.
On your behalf, at this time, Westview Co-op will donate $1.00 for every online order placed. This donation will go to the Mountain View Emergency Shelter Society, a group dedicated to helping families that are dealing with domestic violence. With an increase in calls since COVID-19, this donation will go towards supporting their outreach programs and support groups.
Thank you for choosing Westview Co-op!
Discover more: