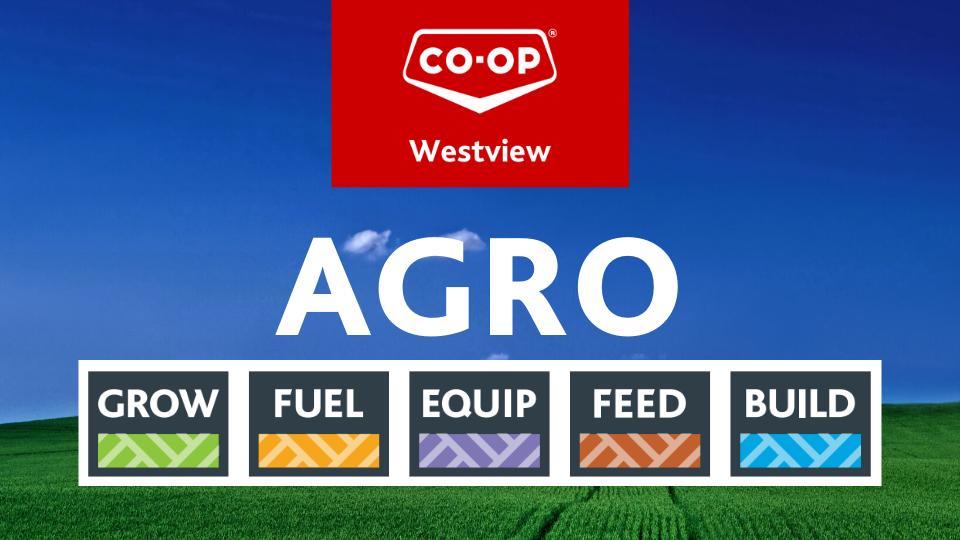 Westview Co-op | Agro |
June 29, 2020
From day-to-day tasks to major farm jobs, your local Co-op provides you with a variety of services and products.
Need hardware items, twine, equipment or other supplies? Let us be your one-stop-shop for your farm projects. Whether it's seed, fertilizer, crop protection or beyond, we provide the products you need to maximize your crop yield. Feed, gates, animal health products, feeders and more - we have a variety of items in stock to meet the needs of your livestock and pets. Your local Co-op has a large selection of bins, augers, aeration equipment and hoppers. Why settle for a good crop year when you can have a great one? Our agronomy services Team can provide the advice you need to take your crop to the next level.

Energy
Westview Co-op fuels farms across Alberta by providing local deliveries of bulk energy products like fuels, lubricants, and propane. In addition to deliveries, Team Members can advise on storage tank upgrades and tank monitoring, as well as provide full-service propane system installation.

Products that meet diverse farm needs
Co-op boasts a product line that keeps up with the harsh seasonal conditions experienced in Western Canada. With seasonally adjusted fuels and diverse synthetic and non-synthetic lubricants, the Co-op Fuel Team can recommend the right product combinations to maintain and improve equipment operability and efficiency. Your operation is unique, so your equipment requires products that meet those unique needs.

Gas & Diesel
All Co-op gas is Top Tier certified, a premium standard backed by a consortium of automakers. Co-op gas aids in deposit removal, restores fuel mileage, and engine performance while reducing harmful emissions. Regular and mid-grade gasolines are premium blends and may contain up to 10 percent ethanol (E10).
Co-op diesel fuel is formulated in both summer and winter grades. Available at select locations, Co-op Premium Diesel provides additional benefits over regular blended grades. Regular and Co-op Premium Diesel fuels may contain up to five percent biodiesel (B5) to meet government mandates. Biodiesel allows for a reduction in tailpipe emissions and reduced greenhouse gas production.
Refueling is convenient with access to more than 380 cardlock locations. We are part of the largest cardlock network in Western Canada, giving you 24/7 access to fueling anywhere a cardlock facility exists.
Great Access. Great Amenities. On top of around the clock access to fueling, Westview Co-op cardlock locations also offer access to high freight transport vehicles. With wide lanes and ample turning room, you can easily pull your campers and trailers through.


Propane
Offering a full suite of propane products and services, ranging from cylinder refills to bulk propane for residential, commercial, or agricultural applications. Our trained professionals and licensed gas fitters can help install or service tanks and equipment. Please call 403-946-5570 for questions or to order.


Lubricants

Visit one of our locations to find a wide selection of products designed to service the agricultural, forestry, commercial, and automotive markets.


Agriculture
Every growing season, farmers are presented with a host of opportunities and challenges. From new varieties and crop inputs to emerging weed and disease issues, there's a lot for growers to learn and master.
Thankfully, farmers aren't alone.
As part of the GROW Team, Westview Co-op is part of a community of more than 150 dedicated agronomic specialists who bring the latest crop production strategies and services to Western Canadian farmers.
In recent years, agricultural technology and services have advanced quickly — and so has Co-op's Team of agronomists and crop input specialists.
Access a vast network. The Co-op GROW Team includes Professional Agrologists, Agricultural Technologists, Certified Crop Advisors, and other experienced specialists who work together for farmers. By sharing information and expertise, they provide their Guests with impactful farm strategies informed by both research and local insights.
Across Western Canada, GROW Team Members are available to assist with your farm's needs, with a full offering of farm inputs including:
Field scouting

Soil testing and crop nutrition recommendations

Crop planning

Crop protection
EQUIP
Quality matters, which is why you need the right tools to effectively move, store, and monitor grain. Today, there are more choices to help you achieve these objectives than ever before.

Local expertise
The Co-op Equip Team is a large network of on-farm equipment experts serving Co-op Members and Guests across Western Canada.

Each Member brings years of experience and in-the-field training, helping address the unique challenges and opportunities on farms across the Prairies.

The Co-op Equip Team is prepared to assist with your farms' needs, including:

Tools and equipment to make your farm safer and more efficient, including on-farm solutions for grain storage and handling, livestock handling, and small parts and equipment.

Trusted advice, technology, and industry-leading support.


Our locations reach across Alberta and our Team provides a network of knowledge and products to help you succeed. Visit one of the locations below.
Consort Agro Centre
P: (403) 577-2802
Find a selection of products to help you on the farm and in the field. Hardware for your next build or renovation, from flooring and paint to plumbing and fencing supplies. Enjoy your backyard with a Pitboss Grill or smoker, complete with pellets, charcoal, and sauces! Consort Agro Centre also carries sporting goods from hunting supplies, gun safes, firearms such as Winchester, Remington, and Savage to Sitka Hunting Gear.
Hanna Agro Centre
P: (403) 854-2820
Serving Local farmers and ranchers, our knowledgeable Team provides a wide range of products to help you succeed, whatever the situation in the field. Find seed and seed treatments, herbicides, fungicides, and everything in between.
Hanna Building Centre
P: (403) 854-2802
Let our Estimators help take the stress out of your next project! Whether you are a contractor or working on a DIY project, our Hanna location has what you need. From a large lumber yard to a variety of kitchen cabinets, flooring, plumbing, and electrical to help with your next build or renovation. Not looking to build — no problem, we have pre built sheds ready to go. Here, you can also find products around landscaping, back yard patio sets, BBQs, and a wide selection of sporting goods.
Eagle Hill General Store
P: (403) 556-2113
Find everything you need at Eagle Hill General Store! This store has it all - groceries, fuel, auto propane, outdoor apparel, BBQs, hardware, farm supplies including fertilizer, crop protection and seed! Looking to build a new deck, shed, or barn - let one of our estimators get in touch. If you can't find something you need on-site, it is only a day away!
Drumheller Home and Agro Centre
P: (403) 823-5555
At our Drumheller location, you will find a large lumber yard providing you with everything you need for your next build.
Step inside our Home Centre to find a variety of kitchen cabinets, flooring, plumbing, and electrical. Have questions or looking to increase your farm storage? Speak to a Team Member about storage solutions for your farm.
Horseshoe Canyon Agro
P: (403) 677-2777
Let the Agronomists and Experienced Team Members of Horseshoe Canyon Agro answer any questions you have around seed and seed treatments, herbicides, fungicides, custom blending, and soil sampling.

Field Trials
Horseshoe Canyon is hosting the 2020 Xtreme Field Trials — a one-stop tour of the latest innovations in Western Canadian crop production! Co-op Grow Team Members are demonstrating new agronomic practices and technologies in crop varieties/hybrids, crop protection, and crop nutrition products. Follow along, or speak to one of our Team Members about what we are seeing in the field today!
Discover more: