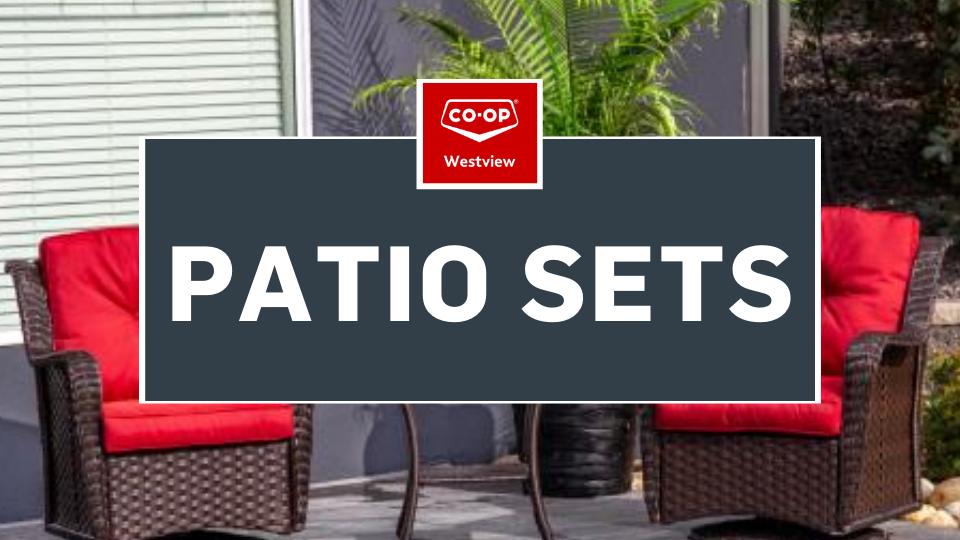 Patio Sets
April 28, 2021
CREATING GREAT SPACES WITH OUTDOOR FURNITURE
Choosing the right furniture set for your outdoor spaces comes with a long list of questions. It's important to assess the needs of your space, who will be using the furniture, what kind of weather you need to prepare for and how much usable space you have.
There is a wide variety of outdoor furniture available at Co-op, including lounge sets, conversation sets, bistro sets and more. While in-store availability may vary, you can always order your favourite set from our Outdoor Living Collection through your local Co-op Home Centre.
Assessing Your Outdoor Space
As spring and summer start to arrive, it's time to begin planning your outdoor spaces. The first question you should ask yourself is, "What do I want out of this space?" Are you looking for a fun place for family gatherings? A quiet nook to read a book? Or maybe you just want to revitalize your backyard. No matter your goal, there is a patio furniture set waiting for you!
For family spaces, think soft, big and easy-to-clean. Pets and children love playing outside, but they tend to track mud around with them wherever they go. Look for furniture that is wicker or wood instead of cloth. If you do choose cloth, find cushions with wipeable fabric or removable covers.
Looking to host an epic backyard party? Make sure you have enough space to entertain! Get some extra chairs and cushions to ensure your guests will be comfortable and cozy. You could even add an outdoor fire place to add light and warmth to your space.
If you're looking to change the scenery in your backyard, try some simple backyard projects to elevate your space. Make sure that you consider the type of space you're working in — whether it is a patio, deck, balcony or lawn space. Understanding your space is the first step to curating quality outdoor living.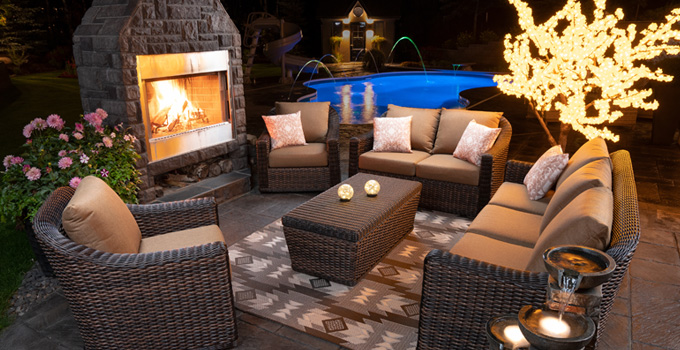 Prepping For Unexpected Weather Conditions
No one wants to be caught chasing their umbrella through a neighbour's yard! Make sure you do a proper assessment of your weather needs before investing in new furniture. Does it rain a lot where you live? Are there sudden, intense wind storms? Will you need to store your furniture inside during the winter months? These are all questions that should be considered.
If you're looking for a low-maintenance, weather-proofed yard, you may want to consider hardscaping. While this can be a big undertaking, when all is said and done, your furniture will have a flat surface to sit on. It's guaranteed to look fabulous once complete!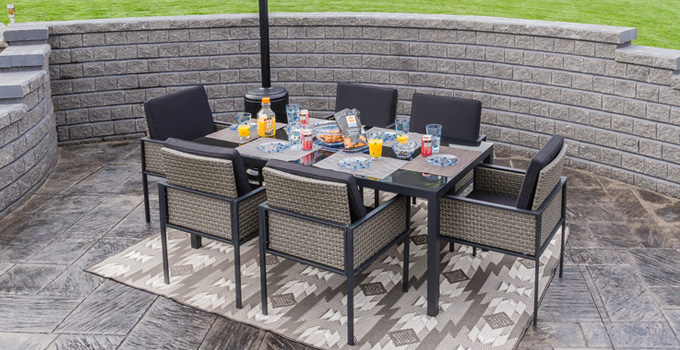 Making Space For All To Enjoy
Whether your space is big or small, you can create an enriching space to relax, spend time with loved ones and enjoy the outdoors. The most important thing about your space is that you enjoy it.
Pick comfort, function, simplicity and style. Co-op's selection of high-quality furniture sets are simple, affordable and suited for a variety of spaces and sizes. Browse your local in-store collection. Visit us in-store or call for availability.
Find your nearest Westview Co-op location here. Summer living starts now!

Discover more: