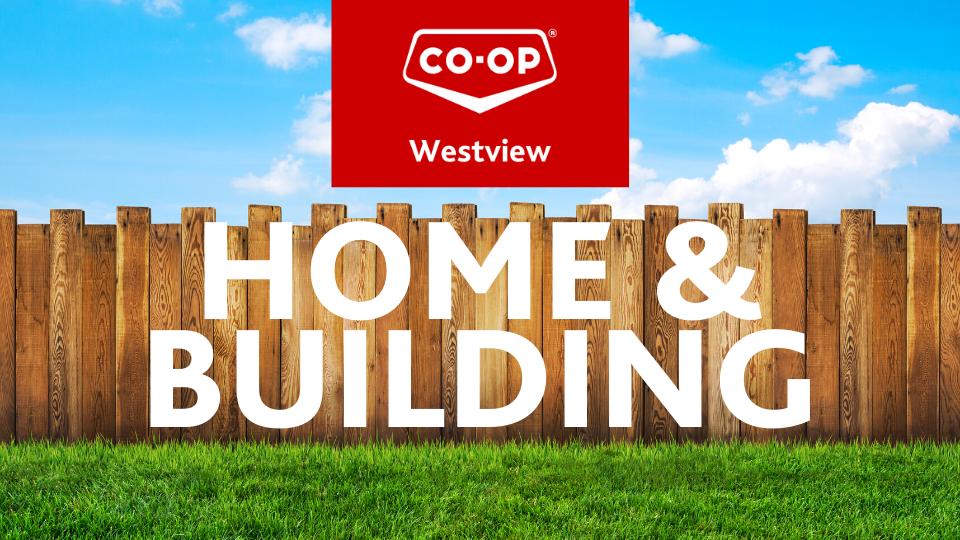 HOME & BUILDING
October 24, 2023
Westview Co-op Home Centres carry everything you need to complete your project! From hardware, lumber, building, tools, paint, plumbing to electrical products. Whether you are a contractor or a taking on a DIY project, speak to one of our Team Members today!
We carry a wide variety of flooring products in our Home Centres— from linoleum, vinyl, ceramic flooring, and carpeting. Talk to our Home Centre Estimators to get a complimentary measure and quote for your next flooring project.
A kitchen renovation is one of the biggest investments in your home, but it is also one of the most important and our Home Centres are here to help. When planning for this renovation you must balance your wants and needs with what is possible within the space and what fits within your budget.
Co-op is established in many Communities across Western Canada where local landscapes are as beautiful as they are diverse. Reflecting these wide-ranging scenes, Co-op is proud of it's line of CO-OP® IMAGINE interior and exterior paint. Learn more about our paint and tips to help you paint your projects here.


Estimation & Contracting Services
Any project is more than just materials. It takes a plan and hard work to get the job done. Let us help! We offer estimation and contracting services to get you in touch with the right people to make your project run smoothly. Available at Hanna Home Centre.


Communities in Full Colour
Communities in Full Colour is a community-investment commitment that gives back to the places Co-op calls home. We are working to brighten up our communities by donating CO-OP® Imagine Paint to the projects and initiatives that matter most to you.
For more details about the program, see the program overview or stop by your local Co-op Home Centre. To apply, click here.


Outdoor Project Guides
Your local Westivew Co-op Home Centre is your complete destination for all your outdoor project needs. We provide a wide range of top-quality materials along with the expertise to ensure you have the right tools for the job. We have designed our fence, deck, shed and garage guides to illustrate how these projects come together, while showcasing the different material options available at Co-op. Print the guides and bring them to one of our in-store project experts to get yourself started, or request a quote online.
Home and Cottage Plans

Welcome to the Co-op Home and Cottage Plans Collection. Building a new home or cottage is an exciting time in anyone's life. To get the most out of your investment, it pays to get the job done right – just the way you want it. Co-op has partnered with CADvantage Design to bring you traditional, modern and contemporary layout plans for a wide variety of living spaces in both urban and rural locales. Westview Co-op Home Centres can help you modify one of our existing plans, finalize drawings and put the right materials package together. Find your plan here.


Farm Building Plans
Farm structures are purposefully built and used to store or work on machinery, keep animals or operate the business. Like any investment, it pays to get the job done right. It also pays to get a building that accommodates your operation and provides room for you to grow. Co-op has partnered with CADvantage Design, which uses its knowledge and experience to create innovative and practical designs. Co-op Home and Agro Centres can help you modify one of our existing plans, finalize construction drawings and put the right materials package together. View all of our plans here.


Contractor's Choice
Published monthly, Contractor's Choice eNews provides readers with informative, industry-specific stories and product information relevant to the professional contractor. By signing up for this FREE subscription, Members are afforded the additional benefit of special offers only available with each edition of Contractor's Choice eNews. These exclusive deals include free items and discounts on a variety of valuable merchandise. Sign up for Contractor's Choice here.
Our locations reach across Alberta and our Team provides a network of knowledge and products to help you succeed. Visit one of the locations below.

Consort
P: (403) 577-2802
Find a selection of products to help you on the farm and in the field. Hardware for your next build or renovation, from flooring and paint to plumbing and fencing supplies. Enjoy your backyard with a Pitboss Grill or smoker, complete with pellets, charcoal, and sauces! Consort Agro Centre also carries sporting goods from hunting supplies, gun safes, firearms such as Winchester, Remington, and Savage to Sitka Hunting Gear.
Hanna Building Centre
P: (403) 854-2802
Let our Estimators help take the stress out of your next project! Whether you are a contractor or working on a DIY project, our Hanna location has what you need. From a large lumber yard to a variety of kitchen cabinets, flooring, plumbing, and electrical to help with your next build or renovation. Not looking to build — no problem, we have pre-built sheds ready to go. Here, you can also find products around landscaping, back yard patio sets, BBQs, and a wide selection of sporting goods!
Eagle Hill General Store
P: (403) 556-2113
Find everything you need at Eagle Hill General Store! This store has it all - groceries, fuel, auto propane, outdoor apparel, BBQs, hardware, farm supplies including fertilizer, crop protection and seed! Looking to build a new deck, shed, or barn - let one of our estimators get in touch. If you can't find something you need on-site, it is only a day away!
Drumheller Home and Agro Centre
P: (403) 823-5555
At our Drumheller location, you will find a large lumber yard providing you with everything you need for your next build. Step inside our Home Centre to find a variety of kitchen cabinets, flooring, plumbing, and electrical. Have questions or looking to increase your farm storage? Speak to a Team Member about storage solutions for your farm.
Discover more: